Commercial Roofing Services
Accurate Roof Management proudly services the commercial industry through out the South Eastern portion of Wisconsin. Services range from maintenance plans for large scale condominiums to roofing repair work for hotels, schools, churches and more.
Our team is highly specialized in:
Metal
Built-up Roofing Membrane
Green Roofing
Spray-On Silicon
Thermoset EPDM
Thermoplastic PVC & TPO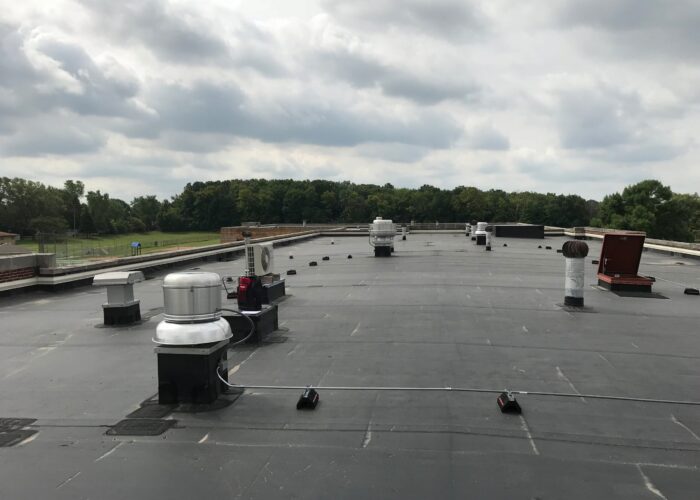 Depending on the type of roof and location, material used can range greatly. Our certified and licensed teams can determine what is needed, provide custom quotes, and install with the highest level of professionalism and attention to detail.
Commercial Roof Asset Management
Commercial Roof Asset Management will help a roof reach and exceed it's designated maximums. Though proper planning, budgeting and management of assets, roof life expectancies can reach or exceed 35 to 40 years. In other words, your roof system will exceed the average roof life of 17.6 years.
Our goal however is to maximize your roof service life. Stopping small problems from becoming big ones is at our core. For instance, prohibiting moisture from getting into the roof system and insulation which causes deterioration.
Localizing your repairs is crucial. Therefore, having a budget will allow for less stress when having to react to a crisis situation.
Commercial Roof Inspections
Commercial Roof Asset Management will inspect the entire roof including, field membrane, seams, drains / scuppers / gutters , base flashings, terminations, wall details, coping metals, corner flashings, HVAC curbs, plumbing flashings, animal damage, and general appearance.
All discrepancies and issues will have photos and be documented in report.
General maintenance includes (but not limited to):
Cleaning of drains / scuppers / gutters of debris
Patching any small holes or cracks found
Perform any necessary caulking to flashings, counter flashings, and patches
Commercial Roofing and Coating Systems
Coating systems for commercial roofs are important because they provide a number of benefits that help to protect and extend the life of the roof. These benefits include:
Waterproofing: Coating systems create a waterproof barrier that prevents water from penetrating the roof and causing damage.
UV protection: Coating systems also provide UV protection, which helps to prevent the sun's rays from breaking down the roofing material and causing it to deteriorate.
Energy efficiency: Some coating systems can also reflect the sun's rays and help to keep the building cooler, which can reduce energy costs.
Cost-effective: Coating systems are often a cost-effective solution for protecting and extending the life of a commercial roof. They can be applied directly over the existing roof, which eliminates the need for costly tear-off and disposal.
Increased Durability: Coating systems can help to protect the roof from weathering, foot traffic, and other forms of wear and tear. This can help to extend the life of the roof and reduce the need for costly repairs or replacement.
Aesthetics: Coating systems are available in a variety of colors and finishes, which can enhance the appearance of the building and improve its curb appeal.
Environmentally friendly: Some roof coating systems are also environmentally friendly, using reflective roofing systems which can decrease energy consumption and reduce the heat island effect.
Overall, coating systems provide a variety of benefits that help to protect and extend the life of commercial roofs while also providing cost savings and aesthetic improvements.
Commercial Roofing and Waterproofing
Waterproofing your commercial roof is important because it helps protect the building and its contents from water damage. A leaky roof can lead to mold, rot, and structural damage, which can be costly to repair. Additionally, water damage can lead to the loss of inventory or equipment, and can disrupt business operations.
Waterproofing your roof can also help extend the life of your roof, which can save you money in the long run by delaying the need for a roof replacement. Overall, waterproofing your commercial roof is an important step in maintaining the overall integrity and value of your building.
What are the different types of commercial roofs
Flat roofs: These are the most common type of commercial roof and are often made of asphalt or tar.
Built-up roofs (BUR): These roofs are made of layers of tar and gravel and are often used on flat or low-sloped roofs.
Modified bitumen roofs: These are similar to built-up roofs but use a rubberized asphalt instead of tar.
Single-ply roofs: These roofs are made of a single layer of material, such as PVC or TPO, and are often used on flat or low-sloped roofs.
Metal roofs: These roofs are made of metal panels and are often used on commercial buildings because of their durability and energy efficiency.
Green roofs: These roofs are covered in vegetation and can help to reduce energy costs and improve the environment.
Spray Polyurethane Foam (SPF) roofs: This type of roofing is a spray-applied, seamless, and fully adhered insulation and waterproofing system.
What is the best commercial roofing material?
TPO (thermoplastic olefin) roofing: This is a popular choice for commercial buildings because it is energy-efficient, durable, and easy to install.
PVC (polyvinyl chloride) roofing: This is a more expensive option, but it is also very durable and can last for decades with proper maintenance.
EPDM (ethylene propylene diene monomer) roofing: This is a rubber-based roofing material that is often used for flat or low-sloped roofs. It is known for its durability, but it can be more expensive than other options.
Metal roofing: This is a durable and long-lasting option that can be made from a variety of materials, including steel, aluminum, and copper. It is a popular choice for commercial buildings because it is resistant to fire and wind damage.