Commercial Roofing Services
Accurate Roof Management proudly services the commercial industry through out the South Eastern portion of Wisconsin. Services range from maintenance plans for large scale condominiums to roofing repair work for hotels, schools, churches and more.
Our team is highly specialized in:
Metal
Built-up Roofing Membrane
Green Roofing
Spray-On Silicon
Thermoset EPDM
Thermoplastic PVC & TPO
Durable metal roofing is a very popular commercial roof type because of its 40 to 60 year lifespan. There are several different types of metal roofing systems available, and some even come with integrated solar or integrated snow removal systems.
Built-up roofing has a lifespan of 20 years or more with care, and it is made by alternating layers of tar and gravel. The number of layers affects durability and (ultimately) cost. It is inexpensive and easy to repair, and is one of the oldest and most flexible roof types.
A green roof can last from 30 to 50 years. They consist of a tough waterproof membrane covered completely by green plants. These sustainable masterpieces improve air quality and often add a green space for relaxation and rest for employees.
In short, Spray Polyurethane Foam (SPF) is a material that begins as a liquid spray that instantly expands into a foam, which hardens into a solid layer. This particular eco-friendly roofing is applied on top of an existing roof, and although not well-known, has been around since the early 1960's.
Ethylene Propylene Diene Terpolymer (EPDM) is a roll-based, durable synthetic rubber roofing membrane. Also known as Thermoset roofing, an EPDM roof system offers strong resistance to sunlight and pollution. It's long-lasting, versatile and easy to install.
Thermoplastic Polyolefin (TPO) and Poly Vinyl Chloride (PVC) roofing systems are adverse conditions resistant. UV light, chemicals including fats and oils, or bacterial growth are all slow to damage these types of roof membranes. They are lightweight, heat-reflective, and puncture resistant.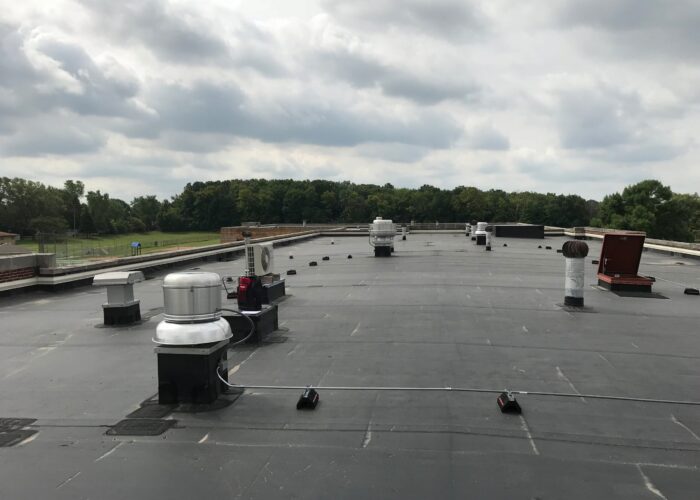 Depending on the type of roof and location, material used can range greatly. Our certified and licensed teams can determine what is needed, provide custom quotes, and install with the highest level of professionalism and attention to detail.
Commercial Roof Asset Management
Commercial Roof Asset Management will help a roof reach and exceed it's designated maximums. Though proper planning, budgeting and management of assets, roof life expectancies can reach or exceed 35 to 40 years. In other words, your roof system will exceed the average roof life of 17.6 years.
Our goal however is to maximize your roof service life. Stopping small problems from becoming big ones is at our core. For instance, prohibiting moisture from getting into the roof system and insulation which causes deterioration.
Localizing your repairs is crucial. Therefore, having a budget will allow for less stress when having to react to a crisis situation.
Commercial Roof Inspections
Commercial Roof Asset Management will inspect the entire roof including, field membrane, seams, drains / scuppers / gutters , base flashings, terminations, wall details, coping metals, corner flashings, HVAC curbs, plumbing flashings, animal damage, and general appearance.
All discrepancies and issues will have photos and be documented in report.
General maintenance includes (but not limited to):
Cleaning of drains / scuppers / gutters of debris
Patching any small holes or cracks found
Perform any necessary caulking to flashings, counter flashings, and patches