Residential Siding
One of the most important aspect to the appearance of your home is the siding. The right type and color will make your residential siding look complete and beautiful, while the wrong kind can make it look outdated and worn. It's important to note what may change the appearance of your house for the better or worse before installing a new siding.
Residential siding, as opposed to more traditional cedar or wood siding, can offer many more benefits to its owner. The most obvious one is the fact that it's weather resistant. While this doesn't mean it doesn't get wet or damaged by a real storm, it does make the fussy maintenance of cedar siding much easier.
Other benefits of siding include:
No need to seal your home's exterior regularly
Less need to paint your home's exterior regularly since there are no typical fading issues with it
Less maintenance since it will not fade or show damage due to weathering for a very long time.
Accurate Roof Management can offer you several different types of siding, while also offering a wide array of colors. Based on your roof color, the siding will be the next step in making your home look great.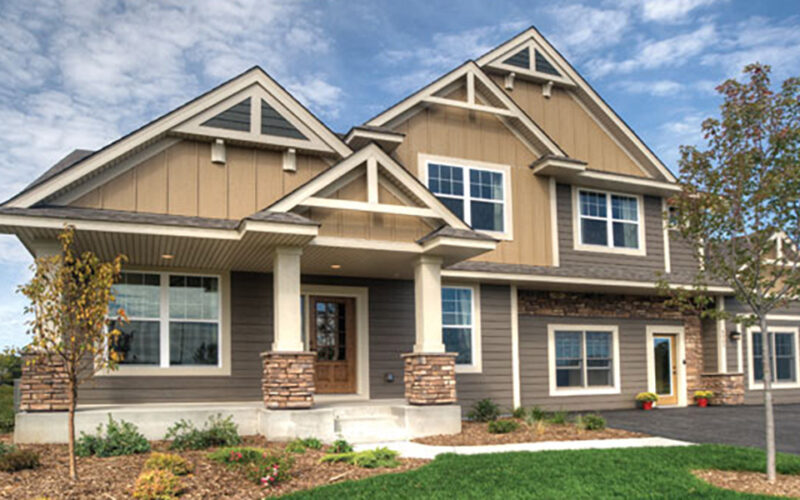 Not sure which colors work best? Try the LP® SmartSide®
HOME VISUALIZER
Take the next step toward picturing our colors on your home by exploring combinations on a sample home or a photo of your actual house.
LP® SMARTSIDE® DURABLE ENGINEERED SIDING
LP® SmartSide® Trim & Siding utilizes engineered wood strand technology that offers superior protection against hail, wind, moisture, fungal decay and termites. It is one of the most durable house siding solutions on the market, thanks in part to our proprietary SmartGuard® process.
HOW ENGINEERED WOOD PREVENTS DAMAGE
The secret to LP SmartSide Trim & Siding's remarkable durability is LP's proprietary SmartGuard® manufacturing process. It ensures that every strand of wood is treated with a carefully formulated mix of resins, waxes, and zinc borate and finished with an overlay to offer complete protection against hail, moisture, termites and fungal decay.
Zinc Borate
This naturally derived additive helps engineered wood resist damage from termites and fungal decay.
Resins
Engineered wood stands up to impact and survives freeze/thaw cycles due to resins that offer incredible strength.
Waxes
Designed to resist moisture, waxes coat each strand to offer enhanced durability in humid environments.
Overlay
This final element of protection resists moisture intrusion, providing a durable base for a finished look.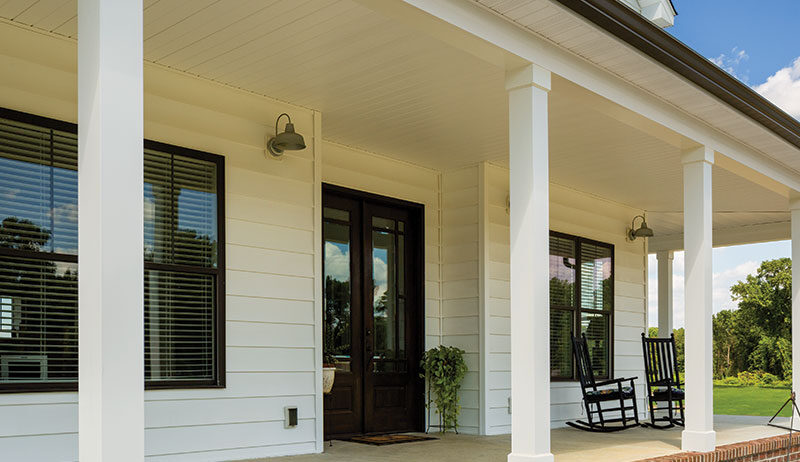 Vinyl Siding
While it may seem like a good idea to cut corners and save money on the installation, the savings will usually be offset by costly repair costs later. One of the most important factors to consider is what type of siding you want.
There are many different options available today that can expand options for color, styling, materials, and more. It is also important to consider how your home is oriented in terms of sunlight exposure as siding colors do appear different in direct light verses low light and shaded areas.
Vinyl siding lasts a long time so your investment will be well worth it. Depending on the quality of the materials, it can last about 60 years. And with some minimal maintenance on occasion, your vinyl siding can last even longer than that.
Mastic Vinyl Residential Siding
Ply Gem designs Vinyl Siding for virtually every situation — for high heat and extreme sun, for pounding hail and hurricane-force winds, for everyday dents and dings, for the ultimate in color choices, and more. Ply Gem's proprietary technologies ensure our vinyl siding holds tight, lasts longer, and performs well year after year.
Ovation
With more color and style choices than any other competitor in this class of vinyl siding, it's easy to make your vision a reality with Ovation™ Siding.
Structure Home Insulation System
Structure® Home Insulation System™ Siding is an exclusive combination of vinyl siding technologies and high-performance foam that wraps your home in a continuous blanket of insulation, keeping you warm in winter and cool in summer.
Quest
Quest® premium vinyl siding includes a tornado-tough design to hold tight in the highest winds. Virtually maintenance-free and beautiful season after season.
Carvedwood 44
Carvedwood•44® is an ideal choice for remodelers because of its optimal thickness and wide selection of designer-inspired colors.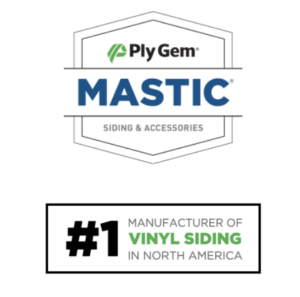 Not sure which colors work best? Try the Home Design Visualizer
Home Visualizer
Select an interactive image and start designing a home with Mastic colors, products, and palettes.
5-Star Review
Jay Wilkins, Greendale, WI
"Mike came out and reviewed with me the problem. Gave me an estimate and said it would be about 2 to 3 weeks before they could get to it. 2 1/2 weeks later they were on my roof fixing the leaking area and more. After a day I had some questions regarding the work. Mike came out the next day and remedied my concerns. Overall a good experience."