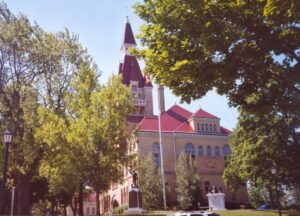 Five star roofing contractors for Washington County
Accurate Roof Management LLC specializes in commercial roof repairs for flat roofs, low slope roofing systems and metal roofs. From repair to installation, our roofing team will go above and beyond to exceed your expectations. With years of experience serving Washington County and SouthEastern areas, we have earned an 5 star rating among business owners in the commercial and industrial space.
We are dedicated and focused to get the job done with the highest standards. We offer roof maintenance programs designed to help keep your roof in excellent working condition which can decrease the need for a roofing emergency repair. By maintaining your commercial roof(s), you can avoid bigger problems that come with a poorly maintained roof.
Free Estimates
Washington County has well-known major manufacturing industries including: machine tooling, metal fabrication, printing, pharmaceutical distribution, photo finishing, and trucking. Its convenient location along the US Highway 45 and US Highway 41 corridors makes an ideal location for trade, business, and retail.
With the gentle rolling landscape carved by the glaciers and towered by the historical landmark of Holy Hill, Washington County provides an interesting atmosphere for family living, business, and industry.
Our Team Servicing Washington County
There is a wide range of roofing systems and materials to choose. The right solution for your facility depends on your overall goals and budget objectives. Because Accurate Roof Management LLC is a certified roofing company, we can select the right system to meet your goals and budgets.
Give us a try, our highly-skilled roofing professionals are capable of handling any project, regardless of size or complexity.
---